Catherine Chion is a woman from the Rhône. She draws it and tirelessly explores its soul and its meanders; she writes the memory of the people of this river "which links the hillsides to the rest of the world."
Illustrator, poetess, storyteller, it is from her friendship, her colors and this shared passion for the river that she draws the labels of our bottles.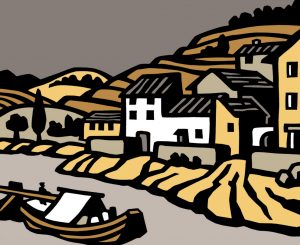 We owe our website to the friendly and rigorous work of Eric Durif-Varambon, graphic designer.
Pour une histoire « d'amour et de raisin, de vies au pied du mur et d'amitiés bienveillantes… »